The reference book ALASKA SHIPWRECKS is now available for purchase in digital format.  Just click the link on the right hand side of this page that says ALASKA SHIPWRECKS book.  It is an 864 page 10 MB download that condenses all of the information available on this website into a pdf file reference book for personal use.   Most of the information detailed in this volume has never before been available to the general public.  The book that can be downloaded here is in pdf format.  There are 3,624 Alaska Shipwrecks listed alphabetically A to Z and chronologically from 1750 to 2011.  The wrecks include names, places, people and other information of interest. Many wrecks have first hand stories of the disasters. There is a list toward the back of the book with the names of all people lost in maritime accidents from 1972 to 2009.  These also have supporting information.  This list includes all of the fishermen lost in the boom years of the crab industry.  I have downloaded ALASKA SHIPWRECKS to my cell phone, a Samsung smart phone, and was able to do word searches. I did a phrase search of the Month and Day of my birthday and found 33 shipwrecks that happened that same Month and Day.
For those of you who use the ALASKA SHIPWRECKS book on a digital device with applications or software, more informational searches can be done depending on what you are using.  The file available here on alaskashipwreck.com is in Adobe pdf format which is compatible with most systems.  A free copy of Adobe Reader can be downloaded from the internet in many places.  In Adobe Reader there is a drop-down menu on the find box that allows you to use a full reader search.  This counts and list all of your hits when you do a search and displays them alongside whichever one you are reviewing.  For example, if you search Shelikof Strait it tells you you have 52 instances where that phrase is found and lists them all with a few introductory words from each.  That is displayed in a column on the right side of the page and the first item on the list is displayed on the left.  You simply highlight an item on the list to the right and that item shows up on the left.  You can search things like canned salmon or copper ore and find out what boats sank carrying that cargo.  You can search a family name such as Petersen and find how many Petersens survived, were lost, owned or had something to do with a shipwreck.  You can search a location like Middleton Island and find all the boats that were lost at that location.  Oddly enough even words like sea serpent or moose have shipwrecks that involve those creatures.
The possible uses for ALASKA SHIPWRECKS in digital format are endless.  A much larger version with pictures and revisions will be available in print some time in the future.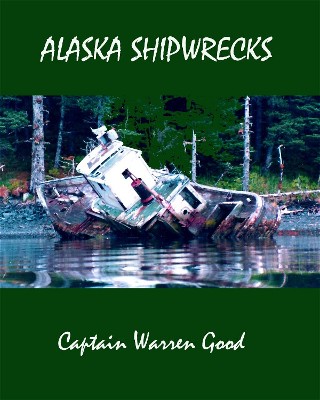 [NinjaProduct]